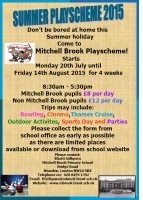 SUMMER PLAYSCHEME 2015
The Mitchell Brook summer playscheme 2015 runs 20 July to 14 August. There are lots of fun activities to keep children happy, learning, growing and safe through the summer. (Click the pic to see more details.)
See the dates and times of special trips and activities during playscheme.
_____________
BREAKFAST CLUB AND AFTER-SCHOOL CLUB 2015-6
Here are copies of the letters for parents and carers with all the details:
Breakfast Club After-school Club
______________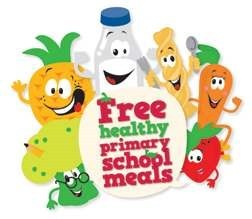 Are We Missing Out On Free School Meals?
There is now a quick on-line way to check if a child is eligible for free school meals.
Click this link to go to the checker.
Here is a letter to parents and carers about free school meals and why it is important for the school to apply if a child is eligible.
If you would like any help with this, speak to Bharti in the office.
_________________
HAVE A WONDERFUL SUMMER BREAK!
School restarts on Friday 4 September 2015
______________
(Looking for some of the events that happened earlier in the year? You can still read about them on the news archive page. )